Battle of the Mound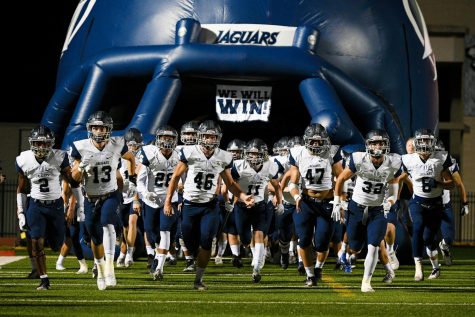 Photos courtesy of Joe Lorenzini/fmhs/football
Battle of the Mound
By: Isabella Carvalho 
This Friday at Neil E. Wilson Stadium at Flower Mound High School it is going to be packed with students and parents both from Flower Mound and Marcus High School.  
Everyday this week at Flower Mound High the students all dress up in whatever theme there  is for that day. Students have been gearing up with merch, face paint, and bells. This Friday is going to be cold so the merch stands are selling long sleeve shirts and even blankets. The football players look forward to this game ever since the school year has started. The cheerleaders and Rosettes have been practicing their cheers, dances and spirit all week. The band has been practicing for a perfect performance for the halftime show.  The quarterback of the varsity team, senior Blake Short, is No. 8. He is looking forward to the game and very excited to see them win.
"I have confidence we are gonna win, the preparation and the weight room. I think it's a process. When Friday comes I think we will be ready.  My favorite spirit day so far is the camo day because I like the people wearing face paint, and I saw some people wear ghillie suits which was cool," Short said.
"Flower Mound will definitely win. Marcus has a good quarterback, which on defense we have to work on stopping their quarterback from making the throws. I'm very excited for the game, it's a great atmosphere at the Mound Showdown," senior Travis McFarling, No. 43 the defensive line tackle for the Varsity team,  said. 
Jordan Whitehead is in band, and plays the bass clarinet.  He is very much looking forward to Friday night.
"I definitely think that the band is ready for the game, and it's awesome seeing the crowds and playing in halftime.  We usually practice four times a week and we get one day off so we are definitely ready for Friday," Whitehead said. 
Sydney Kos is a freshman Rosette and is so excited to perform.
"We are very excited to perform for the game. Rosettes typically practice every day during our class period. On Tuesdays and Thursdays we go out on the field during class, and also have practices after school. In addition, we get to practice with the band on Friday mornings before school. I am very excited to see the Marquette's perform! Even though Marcus is our rival school, many of us have friends on Marquette's and we can't wait to see what they have been working on! I think that our football team is very hard working and that helps lead them to a victory against Marcus," Kos said.