Ask A Jag: Varsity Football Captains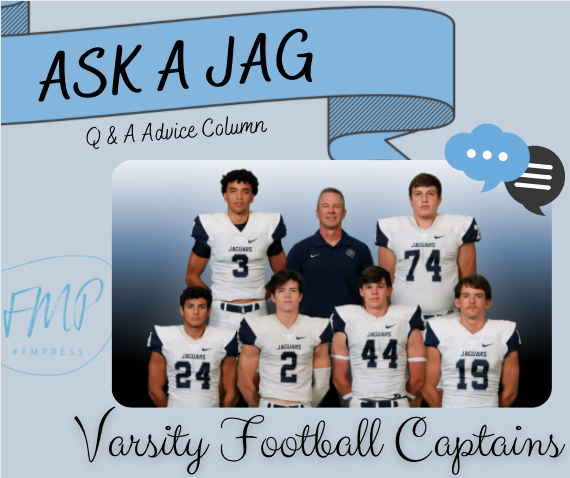 This week's Spotlight Jags are the varsity football captains: Ryan Brubaker, Christian Claterbaugh, Cade Edlein, Nick Evers, Dylan Tighed, and Adam Younes! 
Q: What's the best part about being a football captain?
A: Ryan Brubaker: "The recognition we get from our teammates. Everyone works really hard all year long, and to be recognized by your teammates as a captain is just a great feeling."
A: Christian Claterbaugh: "Having the ability to represent the football program, which has done a lot for me."
A: Adam Younes: "Getting to go out to midfield for the coin flip."
Q: How do you balance schoolwork and football at the same time? 
A: Ryan Brubaker: "To balance schoolwork and football, we have to be very efficient with our time. I make sure to take advantage of the time I have in school to work and try my best not to procrastinate."
A: Christian Claterbaugh: "I balance my schoolwork and football by always making sure school comes first while still focusing on football whenever the time is right."
A: Adam Younes: "Balancing school work and football means managing your time responsibly and saying no to some fun things. It's no different than any other extracurricular like band or cheer."
Q: How do we feel about this football season? Are you confident? Is State an option?
A: Ryan Brubaker: "I have a very good feeling about this team. We showed a lot of promising things in our first game, and I think we can be really good. If we reach our full potential as a team, I believe the sky's the limit."
A: Christian Claterbaugh: "Very very confident. We play a lot of tough teams, but everyone could agree WE'RE TAKING STATE THIS YEAR!"
A: Adam Younes: "This year we are going to do something very special and put Flower Mound on the map. We are confident in our ability to make a deep playoff run."
Q: Who would you consider to be your top football rival and why?
A: Ryan Brubaker: "Marcus is definitely our biggest rival. The fact that they are located in the same town just really makes it a very competitive environment. The Mound Showdown is our most exciting game all year."
A: Christian Claterbaugh: "Marcus."
A: Adam Younes: "Without a doubt our top rival is Marcus. Two high schools, one small town- it couldn't be anymore perfect for a cross town rival."
Q: If you could change anything in the rules of football, what would it be?
A: Ryan Brubaker: "If I could change one thing in the rules of football I think it would be excessive celebration penalties. I think it's a lot of fun not only for us but also the crowd showing a lot of emotion and getting very excited with the team. Celebrations are one of the most energizing parts of any football game."
A: Christian Claterbaugh: "Instead of a PAT, I'd want it to be a different type of conversion."
A: Adam Younes: "I would probably change the blindside rule. Recently the rules for blindside blocking were changed, and it takes away the part of football where you have to keep your head on a swivel."