The Shot that Saved the Game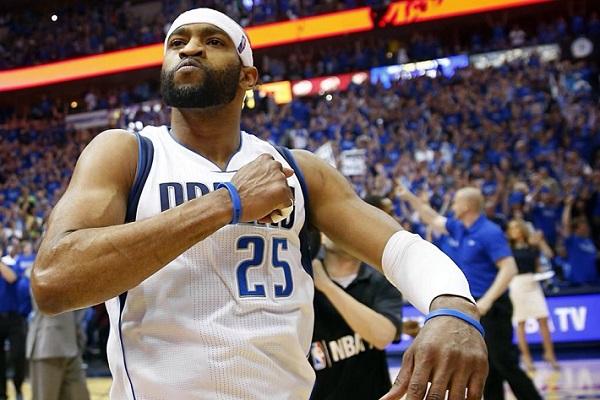 The sea of royal blue erupted into pandemonium when Dallas Mavericks' shooting guard Vince Carter bucketed a last minute 3-pointer that gave Dallas the 2-1 lead in their playoff series against the San Antonio Spurs in their 109-108 win on Saturday at the American Airlines Center. The shot was referred to as "classic Vince Carter" or "Vinsanity" by students and fans.
"That 3-pointer was pure greatness," sophomore Caden Driskill said.
The former Toronto Raptor had been faced with a similar situation in Game 7 of the 2001 Eastern Conference semifinals against the Philadelphia 76'ers. However, thirteen years ago, he missed the same jumper in the left corner. Instead of the disappointing memory haunting him, Carter said he had prepared for the revenge shot ever since.
"I can take the shot with confidence, and I can live with it," Carter said. "Sometimes you miss a big shot — 2001 — and you hold on to it for a while, until you get the opportunity again. I'm just glad it worked out this time, years later."
Along with the game-winning shot, Carter, 37, became the oldest NBA player to hit a buzzer-beater in the postseason since 1997.
"He didn't do that great during the game, but he did make up for it with an incredible shot," sophomore Zach Garrett said.
Before the game, the Mavericks won Game 2, 113-92 Wednesday. The game on Saturday afternoon was led by guard Monta Ellis with 29 points, center Samuel Dalembert with 10 rebounds, and point guard Jose Calderon with 9 assists. These back-to-back wins have fans looking at the big picture: a possibility for another championship in Dallas.
"They may make it to the Finals, but I'm not sure who they would play," Caden said. "I haven't been paying that much attention to the other teams."
Hoping to make the series 3-1, the Mavericks will take on the Spurs tonight at 8:30 in the American Airlines Center, broadcasted on TNT.