From the Office to the Ocean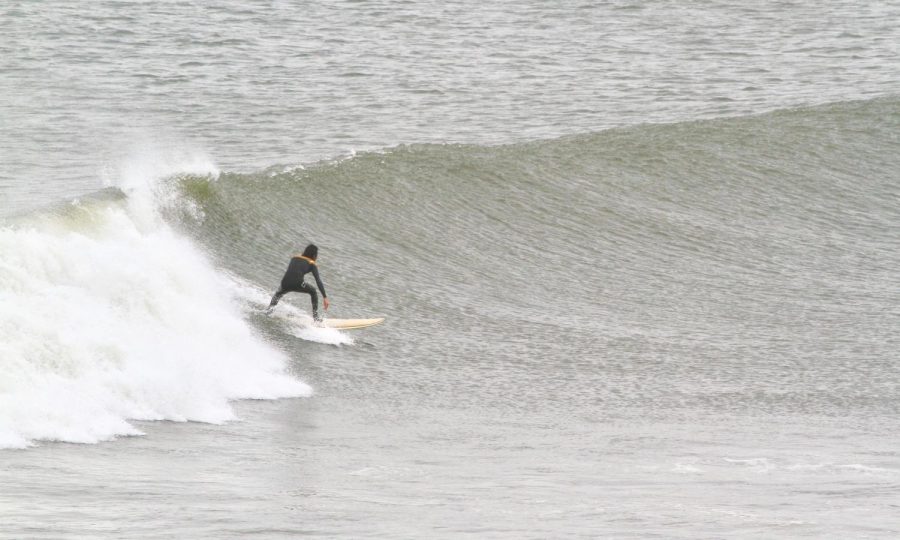 James Scott sat on a small island in Brazil, watching the waves pound the sand. Two teenage boys walked through the jungle, surfboards in hand, heading towards the ocean to surf. All day he watched, captivated, as the boys glided across the waves and occasionally tumbled into the water.
The next day, he found someone in the small, remote Brazilian village who could teach him how to surf.
"After that short vacation, I came back to Texas, back to real life, and was kind of bitten by a bug," Scott said. "I don't really know how to describe it."
Scott, a new assistant principal this year, grew up in a small town in central Texas. He had never seen the ocean, much less a surfer. All that he knew about surfing came from television. But after that fateful day on the Brazilian beach, he could not bring himself to stop; he had fallen in love with surfing.
"I almost drowned," Scott said. "It was a horrible experience, but I still loved it."
At every chance Scott gets, he travels. He has been to Korea, Japan, Singapore, Thailand, Namibia, Qatar, Brazil, Bolivia, Peru, and several Central American countries. Scott travels not only to surf, but also to experience a variety of cultures and meet new people.
"I'm a history teacher and an English teacher, so I really love immersing myself in the culture," Scott said.
Throughout his travels, Scott has amassed a multitude of memories. In one experience, Scott found himself being chased by a bull in Nicaragua.
"I was down in the arena to take a picture because someone left their cape in the middle of the arena floor," Scott said. "The bull clearly saw that I was an amateur, and ran all the way across the arena, ignored everyone that ran by it, and came straight to me. And he came from up behind me and put his nose under my rear-end, [lifting] me up off the ground. Miraculously, I was not hurt."
Although he loves to travel, Scott would not want to live anywhere else except Texas.
"I like that it's so culturally diverse [in Texas]," Scott said. "A lot of people who don't live here think it's just rednecks and cowboys and pickup trucks, [but] we know it's not that. As much as people love New York and California, and I've been to both places a lot, I still prefer everything that is here."
Scott takes his role as an assistant principal seriously. Even in an affluent area like Flower Mound, he believes he still has a crucial impact on students.
"I think that a lot of people think that if you just come from a pretty stable home and you [have] a good mom and a good dad, that's all you need…but I think [students] still can benefit from mentors that are not their parents," Scott said. "That might be a teacher they connect with, a coach they connect with, a counselor, you name it. I think that wide group of people, and that would be me in some cases, can assist students of all kinds, whether they've got a lot of advantages in life or they don't have very many advantages at all, to be successful in some area."
As Scott helps students as an assistant principal, he keeps in mind the lessons he has learned from surfing.
"[Surfing's] very challenging, physically and mentally; you have to be very disciplined and calm because it's easy to get frightened or panicked in the water, especially if the waves are big," Scott said. "That's been good to teach me in normal, daily life situations how not to be panicked or to just deal with situations as they come. Because sometimes you don't have control, just like you don't have control over the water."