LISD #BeKind Campaign Comes to Flower Mound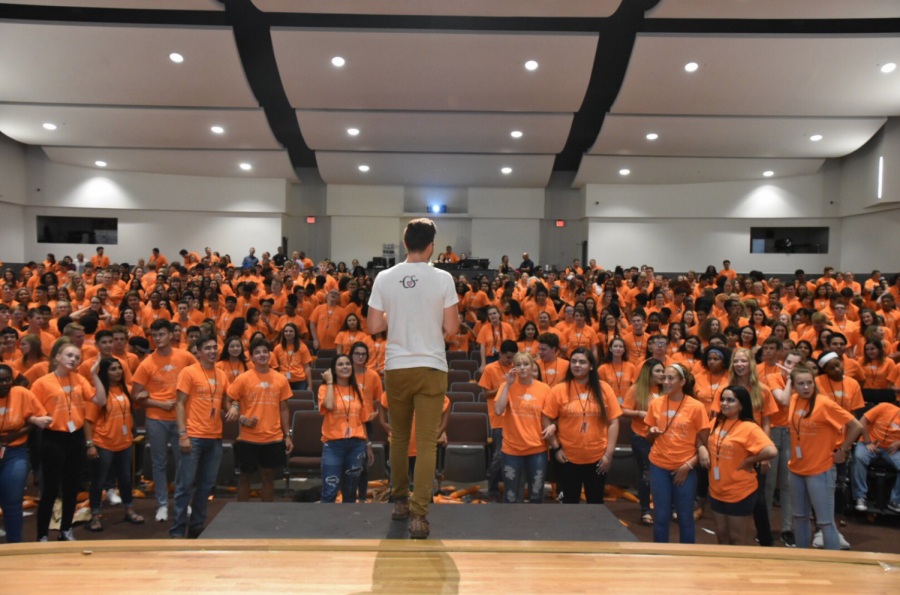 This year, LISD hosted its first LISD #BeKind Convocation, a gathering of students from all five LISD High School to encourage the students to embrace the kindness movement and spread it through their school. The students who attended were nominated or volunteered to be Kindness Ambassadors or volunteered to become one.
Kindness Ambassadors are students who try everyday to spread kindness and be there for anyone who needs a friend.
Kindness Week, the second week of school, was a week-long event to introduce high school students to the Kindness campaign and kick off the school year on a good, kind note. Each day had a spirit day and a challenge for students to go out of their way and be kind, reconnect with old friends, and to make new friends. Kindness Ambassadors welcomed students each morning by holding the doors and greeting each student as they walked in.
The campaign will last throughout the year, with each organization at school being assigned a week in the year to go out of their way to be kind.
Houston Kraft was the event's keynote speaker; he is the co-founder of CharacterStrong, a program that builds curriculum to teach students and teachers how to be kind and be a better person. He spoke to the Kindness Ambassadors about the meaning of kindness and the importance of incorporating what the students learn into their school day.
"I learned that kindness isn't about you, it's about other people and how kindness can change someone's life," freshman Lauryn Hobbs said, reflecting on her experience at the convocation.
Hobbs was named the Flower Mound ninth grade campus's Kindness Ambassador of the week. She credits her achievement to holding the door for students before school.
"I think that was one of the main reasons because I had gotten there early and I was like 'there's no one else here but I'm going to do it anyway,'…I didn't need people to do what I wanted to do and do what I thought needed to be done," Hobbs said.
The Kindness campaign is more than just doing one nice thing; it's about changing the way people act and encouraging them to be kind to one another.
"It's about the people who you could make happy and you could change their morning…how you affect people and realizing that you matter and that people can depend on you for things and that you could change someone's day or life even," Hobbs says.
Jude Lugo, a sophomore and new student at Flower Mound, was named the "thumbs up" Kindness Ambassador. He embraced the kindness campaign because he knows what it's like to have people be kind to him, even if they don't know him.
"I move a lot so people kind of taking me in and just being kind to me and accepting me and wanting to be friends [is] great to see," Lugo said.