Whole Lotta Red Review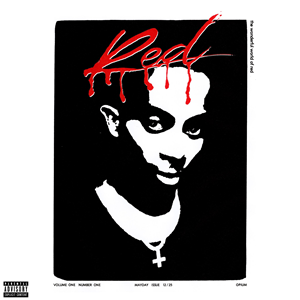 Playboi Carti's fascinating trajectory continues with his long awaited sophomore album, Whole Lotta Red. This 24-track album alternates between aggressive beats to slightly dreamier trap sounds, giving it some of the most unique production within his genre. However, Carti's attempt to cement his label as a unique rock star does not automatically guarantee the overall quality of his album. Whole Lotta Red was largely unforgettable with a few beautiful moments spread thin over a rough piece of hip-hop.
After releasing his debut album, Die Lit, Carti was able to establish a devoted fan base. Whole Lotta Red falls terribly short of its potential. It's hard to tell what plane of existence Carti is on. Several tracks have very little structure and don't add anything positive to the album. "Go2DaMoon" featuring Kanye West is scrappy and rushed. His verse awkwardly stops the momentum of the album before it even starts, which is disappointing since he is a talented rapper. There's a lack of balance between the vocals and the instrumentals in "Vamp Anthem." This track had high expectations just from title because of Carti's new aesthetic in the social media runup of the album, but it ended up being dry. The stereotypical vampire intro does not go well with the synth he used. Also, Carti played it too safe on "Place" which features a Pi'erre Bourne beat. This track was quite underwhelming with his vocal performance.
Despite the overall disappointment of Whole Lotta Red, it still does have a few impressive tracks. Lead single "M3tamorphosis" featuring Kid Cudi is hypnotic. Cudi's deep, rumbling hums pair beautifully with Carti's frantic voice. The disorientation of "M3tamorphosis" is a classic Carti move. "Beno!" harks back to the pitchy and pixelated sounds of Die Lit. The variations of Carti's vocal styles throughout the album should also be noted. He is notorious for his baby voice, so it was refreshing and surprising to hear him abandon his incoherent vocal inflections at a few points in the album.
Leading up to the release on Christmas Day, Carti received a lot of backlash from the public because of the album's delay, how public his relationship issues were and satanic merchandise. Despite all of the controversy, it was interesting to see how Carti embraced the vampire aesthetic leading up to the album's release. While he isn't the first to bring punk flair to hip-hop, he is one of the most prominent. This is what really makes the high points of the album so exciting.
Whole Lotta Red's entire appeal is its confusion, which reflects Carti's attempt to create a one-of-a-kind piece. Unfortunately, he wasn't able to deliver. His effort is appreciated, but the bad moments overshadow the good ones. The entire listening experience makes my head feel like it's going to explode. Carti pushes the album towards oblivion. The very few good points of Whole Lotta Red save it from being absolute garbage. The album is essentially all over the place. Some tracks strengthen the goth energy, while others feel like they belong on Die Lit part two. This album will likely be appreciated for its concept, rather than Carti's execution.