FMHS Library Opening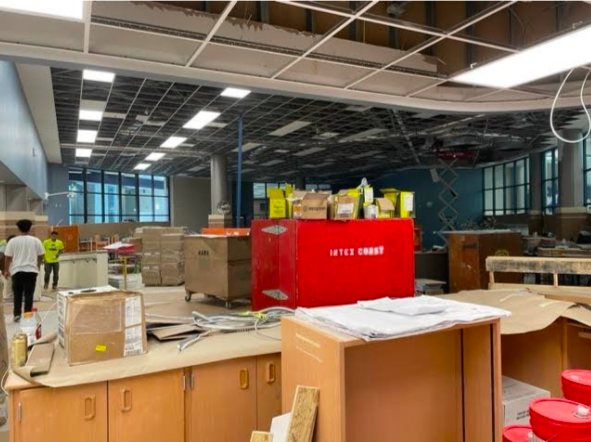 Confined to the limiting walls of a tiny classroom in the 1200 hallway, the FMHS library has remained relatively dormant for the majority of our school year so far.  Extensively condensed book collections and lack of adequate seating arrangements have become an unfortunate, but necessary, reality. For the past five months, renovations, along with major maintenance repairs, have been taking place behind the closed double doors of the school's library. 
"Paints and light. Those were the biggest changes. It's kinda hard to see, but up in the ceiling, they changed out the lights, they put new wiring in, and new AC. We do have new floors coming at some point," explained Karen Storrie, FMHS librarian.
There may be additional makeovers in store for the library in the near future. Ms. Storrie further elaborated on this topic, expressing a motivation to create an efficient, collaborative, and pleasant environment for students and staff.
"The next step, which I really hope happens, is new furniture. Just furniture that's more inviting, comfortable, and flexible. I mean if you look at [what we have now] it looks like it's a doctor's office's hand me downs," she laughed.
For now, however, restorations have come to a close, opening the doors of the library amid the start of a new semester. Curious students float in and out, chatting in groups at the large wooden tables or browsing the broad bookshelves. For many, this marks their first encounter with a "real" library at FMHS, a consequence of the virtual learning that took place last school year.
"A lot of these [students] have not experienced the library and so it's cool to see people realize that it's open and that it's more than just books and technology. We also have a place for students to go," said Ms. Storrie.
The reopening of the school's library has already begun to revitalize an energetic and dynamic atmosphere, boosting student productivity. According to Ms. Storrie, the library serves as a valuable workplace for students and teachers, a space in which they may cooperate with one another or focus individually.
"If you look around, you see students who are studying or working on projects together. Also, it's just a good place to hang out, especially in the mornings," she added.
As it initiates its rise from stagnation, the FMHS library has begun to slowly blossom into a hub of activity, exposing previously unavailable resources to benefit the use of student and staff members.  It seems that many are eager to return to the conveniences of our library.
"I'm looking forward, and I'm very excited to see students back in here," said Ms. Storrie.