Local Band Steals Spotlight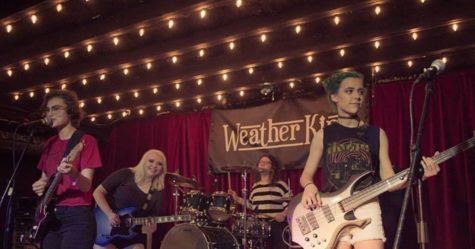 Dillon Wilkins, sophomore, is a guitarist for student-led band Ting Tang Tina and already has a record deal with Dreamy Life Records, a music video released, and an album coming out in March.
Ting Tang Tina was created out of the friendship of Wilkins, Ruby Lewis, Aidan Bumgardner, and Natalie Raulerson.
"We've all been friends for a really long time and it originally started out as a trio with the singer the drummer, and our old bassist," Wilkins said. "And they [said] 'we want some better guitar' because their singer [only knew] how to play basic stuff. They [said], 'Can you come and play guitar for us?' and ever since then we've been a band. It really took off after our first gig."
A recording of Ting Tang Tina's song "Yellow and Blue" is available on YouTube. Their surf and 50's pop influence from indie group The Aquadolls is very much present throughout the track. They describe their songs generally as "indie, but songs you can dance to."
"It's really upbeat and happy music for the most part," Wilkins said.
Ting Tang Tina's first official gig was at The Aardvark in Fort Worth. They played along with several other bands for a friend's 16th birthday party. Their first solo gig came not long after.
"Our first 'on our own' gig that we booked was we opened for You and Me Music at Lola's in Fort Worth like a month or two after that," Wilkins said. "It was cool; there were a lot of people there."
Their debut album titled Love is Trippy is set to be released in March.
"We're going to sell cassettes whenever it comes out in March, but it's also going to be available for digital download," Wilkins said. "I've heard that it's going to be on Bandcamp and I'm pretty sure its also going to be on Spotify."
As for the future of Ting Tang Tina, Wilkins is hopeful.
"Hopefully we get a little bit famous," Wilkins said.