Drive-thru Parade for Flower Mound Hospital and First Responder Staff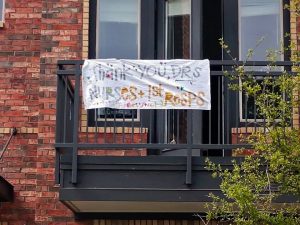 With frontline workers risking their safety and devoting so much of their time to help their community and world, it's no doubt that healthcare workers are going above and beyond during this time of need. In Flower Mound, appreciation for our healthcare and essential workers has not been little. There have been trending hashtags on social media groups, posters, decorated windows, and more. But to help get everyone involved in showing the town's appreciation, some local residents are hosting an event to show appreciation for local doctors, nurses, hospital staff, and first responders during the pandemic.
On Tuesday (May 12th) from 12:30-1:30 p.m. at the Texas Health Presbyterian Hospital Flower Mound (4400 Long Prairie Road) the community is invited to a drive-thru parade. Residents of Flower Mound are recommended to decorate signs and their cars. Families can come show support and appreciation for the people of the frontline.
"They have sacrificed so much to protect us and keep us safe during this crisis, the Facebook event page says. "It's time to give back and show them our 'signs' of appreciation!"
This is a great opportunity for the community to come together and express our appreciation and admiration for these essential workers in the frontlines.