Island Snow Cafe Opens in Flower Mound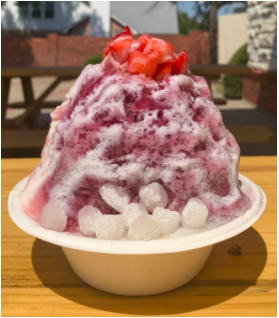 It was an irregularly hot day during the month of September when I decided to try out Island Snow Cafe. They are known for their Hawaiian shaved ice and acai bowls, which made it a favorable treat for such a day. Whenever it is a scorching hot day here in Texas, cold flavorful refreshments are always a personal go-to. Since it was the grand opening, I thought it would be a good place to try to see if it might become my new regular dessert spot for cold sweets.
In Texas, summers would be formidable opponents without cold treats and air conditioning. That is why there are many shaved ice and acai bowl places popping up in the area, such as Bahama Bucks, who also sells Hawaiian shaved ice, snow cones, fruit smoothies, acai bowls and iced coffees. However, what differentiates Island Snow Cafe from many of the shaved ice places around is the toppings they use. Most shaved ice places only use syrups to give the ice flavors and a little umbrella as a decoration. With a price point slightly higher than that of neighboring Bahama Bucks, Island Snow Cafe tops its shaved ice with added features such as fruits that correspond with the flavor of the ice you choose. Then, they add something I have never had with shaved ice before– mochi balls.
The particular shaved ice flavor I ate was "Berry Patch," a mix of strawberries and blueberries. The shaved ice was like a sponge soaking up all the syrup to give it flavor. The top of the shaved ice was also drizzled with sweet syrup, which is pretty uniform for shaved ice across the nation. However, the ice cream in the middle was a sweet surprise. I have never had ice cream with shaved ice, and I wouldn't say I was displeased. The treat was sweet and cold with ice cream in the middle, which created a nice balance between all the robust flavors the shaved ice had. The ice cream was like a palate cleanser to the sweet syrup of the ice, helping balance the flavors. 
Since there are only a couple of different combinations, customers could choose to combine different flavors they believed would be better and make their own treat. They could choose two flavors and two toppings. The shaved ice will always have the ice cream in the middle and the sweet cream drizzle on top. Creating one's new combinations of flavors can be a captivating experience for people to get their minds off the hot weather of Texas.
For its grand opening, Island Snow Cafe had adorned its shop with Hawaiian-themed decor and had outdoor tables. At the time I went to the cafe, there weren't many people in the shop. However, before I left, there was an influx of people between 6 to 8 p.m., creating a line that went out the door. There were so many people that the indoor seating was filled, and people had to sit at the outdoor tables. While it isn't busy during the early hours of the afternoon, the shaved ice from Island Snow Cafe seems to be a favorite dessert place after dinner. 
I have only tried the Berry Patch and Pina Colada shaved ice, but I am feeling the pull of the Acai Classic bowl. If it is anything like the other products Island Snow Cafe offers, the combination of acai, banana, strawberries and blueberries will be worth trying.