Athlete Profile: Cade Edlein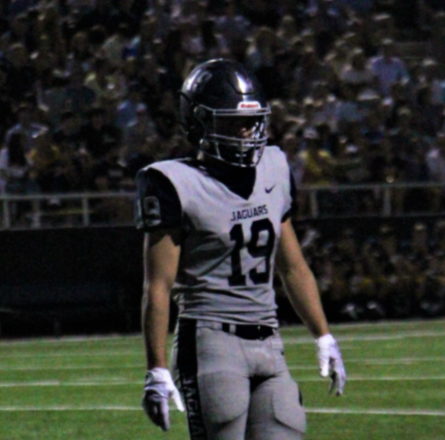 Athletes work daily to not only enhance their physicality but also their mindset. Many of them have a lot of responsibility to bear, as they have to fulfill their own role on the team as well as encouraging others to do the same. For Cade Edlein, his role is to help lead his team as one of the senior captains. He works hard to be a captain his teammates can count on to help lead them to victory.  However, at the end of the day, for Edlein and many other athletes, it is the satisfaction of being able to sit back and watch as all the work he has put into practice comes into play during games. 
"I find it fun just being able to go out there and make plays and have people watching," Edlein said. "It is just fun to put all your hard work into one spot in front of everybody."
Edlein practices six days a week, grinding with his teammates to get stronger and better, physically and mentally. 
"We are here from 2:00 to about 5:30 four days a week, and then we are here for games till 10:30 or 11:00 on Friday nights," explained Edlein. "Then, we are up here again for another two to two and a half hours on Saturday morning, so about 10-12 hours per week of football."
All of this prep work throughout the week leads to game time when he and his teammates have to be ready to compete against their opponents. During games, he doesn't have time to think about what he should do– he just lets his instincts lead him.
"You are just so focused on running the play and doing it right that I don't even think that much," Edlein explained. "I think about doing my responsibility and executing it how I know it should be done."
All of Edlein's hard work throughout high school has opened up many doors for him, and he has received offers to play at several colleges including Washington and Lee, Austin College, and Ithaca.
"I get kind of stressed out a little bit about choosing which school because it is a big decision you have to make because you are kinda deciding how your life path is going to go from here," Edlein said. "I know though wherever I end up I will have a good time and get a good education."
As Edlein comes to the end of his high school career, he focuses more on the experiences he gains from being a captain and an athlete rather than making a name for himself.
"Winning is important to me, but I play football for the relationships I can build, the experiences I can gain, and the life lessons I will learn through it," Edlein said.