Coach Siegel Hits 400 Win Milestone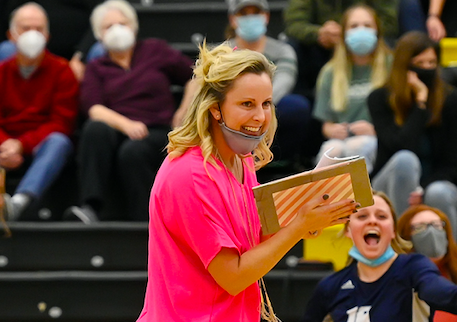 It's no secret that the FMHS volleyball program is one of the best in the school district, if not the state. The girls varsity volleyball team fought for their first 6A State Championship in 2018 and secured spots as UIL Regional Quarter Finalists in 2019 and UIL State Semifinalists in 2020. Since then, the girls have built an admirable reputation, including their most recent win last week as 2021 Northwest ISD Volleyball Classic Champions.
These achievements were all made under the leadership of Coach Jamie Siegel, who not long ago reached the milestone of having coached 400 wins. Considering that Siegel is currently entering only her 13th season as a volleyball coach, it is remarkable that she was able to accomplish such a great feat in such a brief period of time. In spite of her persistent dedication to the sport and her impressive work ethic, Coach Siegel continues to insist that the 400 wins were entirely a team effort.
"It feels amazing, but the girls get the credit […] I always say that they get the wins, and I get the losses. The credit goes to them and their attitude and work ethic," says Coach Siegel.
Before becoming a Division 1 setter at Austin Peay State University, Siegel started playing competitive volleyball during her junior year of high school. Her passion for teaching comes from her love of the sport that began as a player. She explains that being able to coach students and watch them flourish is what keeps her going.
"Honestly, student athletes are my driving factor," said Siegel. "I want to keep growing them, not only as volleyball players, but also as strong women and leaders […] I want to let them know not just to think big but to act big."
Siegel also believes that building strong relationships with her players is a major part of her job. "They're all like my daughters. I mean I've been to former players' weddings, baby showers," she laughs.
Under Coach Siegel's guidance, the FMHS volleyball program has advanced rapidly over the past few years. "God's put me in this position for a reason, and I'm a big believer in that. I've got to live up to my challenges daily," she remarks. Siegel emphasizes that she expects no less from herself or her players during the coming school year. She hopes to not only grow her players as a team, but also as individuals.
"Our goal, as always, is to win state… but the big goal personally for the team is to just for them to really grow together as a sisterhood and to really understand how important it is to be a good citizen and have good character," she asserts.
As a distinguished athlete and coach herself, Coach Siegel shares the most important piece of advice that she could give to young student athletes: to never give up.
"I didn't start playing club volleyball until my junior year of high school. So, I played two years, and I still went Division 1 on a full ride," she says. "You have to believe in yourself first… never settle and don't break promises to yourself."
Through her consistent motivation, inspiring advice and constant encouragement, Coach Siegel has helped in setting an example for all of us. We are so proud of her, and what she has accomplished. We expect nothing but great things from her, and the volleyball program in the coming years!