Ask a Jag: Drum Majors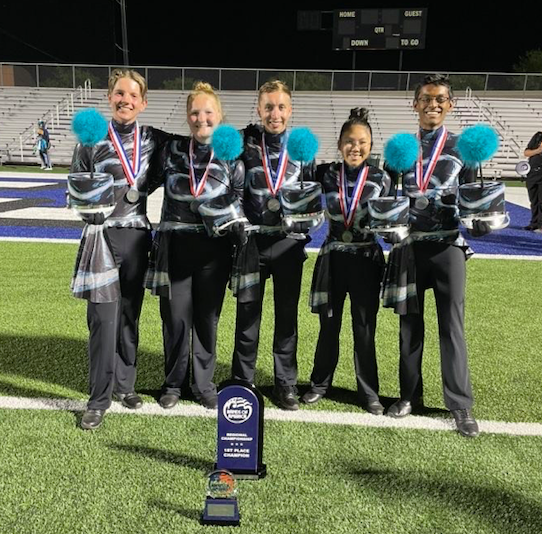 This week's Spotlight Jags are the band drum majors: Lindsay Kim, Lila Odom, Joey Risberg, Mitchell Robinson, and Kathir Seralaathan. 
The success of the FMHS marching band relies significantly on the leadership roles fulfilled by drum majors, student members of the band charged with coordinating activities, conducting music and guiding the band as a whole.
"To help visualize the band, there's a squad leader who leads every five to eight people. Above that, your section leaders lead the instrument grouping. Then, there are your captains. There's one for brass and one for the woodwinds. And then there's us, and then the directors," explained senior drum major Joey Risberg.
In addition to conducting during marching season, the drum majors are tasked with fostering a sense of unity and helping resolve any issues that arise. They play an integral part in creating a supportive and collaborative environment within the band.
"You have a lot of responsibilities [as a drum major]. If the students need anything, they come to us before the directors," said senior drum major Lila Odom.
 Considering the notably large size of the band program, gaining the title of "drum major" is no small feat. Potential candidates are evaluated carefully in a number of ways. First, students are assessed in their ability to conduct the band during a portion of a show intended for the following year. Students also participate in an interview process, during which they are expected to further elaborate on their interest in the position. Attitude, work ethic and character of each student are also taken into account.
 "Our personalities are a huge factor into who gets chosen, I think," said junior drum major Lindsay Kim.
Being entrusted with guiding the marching band to meet the highest of expectations can be daunting. The perks of the job also come with many pressures.
"[The directors] hold us to a higher standard. They talk to us more like adults instead of just students," explained Odom. "I feel pressure from the band to be as perfect as possible all the time," added Kim. "No other band director has passion like Mr. Biskup, Ms. Harvey, and Mr. Ayoub. Their dedication contributes to our overall success and uniqueness as the FMHS band," said Kim. 
Currently, marching band competition season is in full swing; FMHS band members continually prepare, perform and perfect their routine. The show ultimately presented to the audience and judges represents the product of hours of dedication. During nearly two weeks over the summer, band members participate in band camp for twelve hours a day. Once the school year begins, they practice for eight hours outside of school each week, with weekend competitions demanding additional time. 
"Even though you might not want to be there during rehearsals, you have to think about [how] it's only a couple hours of your day. Eventually, when you perform, you feel that instant pride in yourself," said Odom.
Judges score marching bands on their visuals, precision, uniformity and music, among other elements. The FMHS band choreographers, including Mr. Moore, carefully design a routine to be polished over the course of the season. 
"At the end, the goal is to have every single person look the exact same," said Risberg. "Every spacing is exactly the same, every line is exactly straight and every curve is exactly curved." 
Much of the band's success lies in the students' dedication— but also that of staff and parents. The uniforms, for instance, are designed by program coordinator Mr. Spaeth, and parents work diligently on props. 
"All of our parents do so much to make sure that our program is off the ground. There are parents who are here twelve hours on a Sunday, making shirts and painting stuff for rehearsal. It's crazy," said Risberg. "There was one parent who made all 350 of the plumes," continued Odom.
The consistent efforts of the band also occasion opportunities for meaningful socialization and bonding. The busy rehearsal schedules allow students to spend time with one another and develop lasting friendships in the process.  
"I feel like if band didn't have a social aspect, a lot of people wouldn't be in it," said junior drum major Kathir Seralaathan. "If I left band, I don't think that I would have any friends," added Kim, laughing. 
The band's persistent spirit, sense of community, and strong support system help members collectively achieve their goals.